ViTravel - The Best Services
VITRAVEL - THE BEST SERVICE
I. COMPANY INTRODUCTION
1. Open Letter
First of all, on behalf of the founders of ViTravel, I would like to send my respectful greetings to customers!
Dear Valued Customers, ViTravel Co., Ltd, the leading domestic and international tour operator with 10 years of prestigious operation in Vietnam.
ViTravel is the crystallization of the intellect and enthusiasm of the founders. A strategic trademark is waiting for a new wind with international tourists having the opportunity to travel to Vietnam.
• We have more than 10 years of experience in customizing and operating tours in Vietnam. We are always ready to provide the best quality travel products with the best experiences for tourists in Vietnam. Accommodation choices associated with natural wonders in Vietnam, cultural tours associated with heritage sites in Vietnam, experiential tours to discover natural beauty and cultural identity of ethnic groups, community tours, etc. With each tourism product, we are always creative and leading the trend to meet the maximum travel needs and bring the most satisfaction to our customers.
• We are the leading visa consulting and service company in Vietnam. We provide the option of receiving visas on arrival for tourists at Vietnam international airport. Processing visas for tourists received at Vietnamese embassies abroad. Besides, our business and official visas are also very convenient for our customers to be consulted and supported. With the advantage of being an agent for many airlines in Vietnam such as Vietnam Airlines, VietjetAir, Bamboo Airways and all international airlines, we are happy to advise you the best flight routes with the most reasonable prices to meet your demand throughout the territory of Vietnam and other countries in the region.
We are committed to contributing to the development of destinations, benefiting both tourists and local communities through creativity in tourism programs. Expanding the beauty of Vietnam's hospitality to international friends and especially the satisfaction of visitors in accordance with the goal that we aim to "THE BEST SERVICES" you deserve.
Thank you very much our valued customers!
General Director
NGUYEN VAN LONG
II. COMPANY's INFORMATION
1. Company's Information
Company's name: VIETNAM INTERNATIONAL TRAVEL AND TRADE DEVELOPMENT CO., LTD
Address: 2nd floor, No. 158 Phan Ke Binh street, Cong Vi Ward, Ba Dinh District, Hanoi city, Vietnam
Hotline: (+84) 24 37 369 369 - (+84)866 028 800
Email: tours@vitravel.com.vn
Website: vitravel.vn
Tax Code: 0106009228
Representative: Mr NGUYEN VAN LONG - General Manager
2. Legal Basis
3. ViTravel Board Of Directors
ViTravel was founded, operated and developed by founders who are experienced and dedicated to the sustainable development of Vietnam's tourism. We are responsible for promoting the country's image and the people of Vietnam with friends on five continents and aspire to become a leading tourism trademark in Vietnam.
ViTravel ensures benefits for visitors. It is a responsibility to the community and the tourism environment. Developing tourism products and business activities on the basis of harmonizing enterprise interests with community values.
4. ViTravel's People
Above all, we understand that people are an important and key factor for the success of the enterprise:
- A team of talented professionals, enthusiastic in every job.
- Human resources are always sociable, and creative and help each other to complete all tasks.
- Devoted to working and putting the interests of customers first, complying with the provisions of the law in all business activities.
5. Why choose ViTravel
- Solid Inner Strength
: ViTravel has 10 years of experience in customizing and operating tours in Vietnam (including domestic, inbound and outbound). It is solid management capacity, high-quality human resources, and legal basis of the company in accordance with the provisions of Vietnamese law. We have abundant financial resources and modern facilities.
- Professional Staff: We have a team of professional staff who are knowledgeable about Vietnam's tourism. Strong facilities, and connection system with service partners throughout the territory of Vietnam.
- Amazing And Satisfying Tourism Products: ViTravel selects and introduces tours at the top destinations of the S-shaped country with diverse natural and cultural heritages, resort tourism - discovery, and rich cuisine.. .; highlighting the most attractive features of Vietnam.
- Best Price: With the goal of bringing the best value to visitors, ViTravel's tourism products always meet the needs of visitors; the service price is always the best for all services and ensures the satisfaction of visitors.
6. Culture Of Enterprise
Respect leaders: We have a harmonious relationship between leaders and employees; the staff always respects the superiors, is ready to perform the assigned tasks, and always listens, requests and contributes ideas to promote the company's development.
Respect employees: The leading board of the company always listens to the aspirations and respects the employees, which helps us to take advantage of all the strengths of our personnel, contributing to the modernization of the human resources team and promoting all aspects of our internal value of the company.
Respect customers: We always seek and listen to our customers' suggestions. That is the basis for us to develop and perfect the product. All arising issues are resolved satisfactorily to ensure the interests of customers and harmonize with the interests of the enterprise.
III. OUR PRODUCTS
1. Tourism Products
- Luxury Package Tours: We create high-end services to suit the high-class requirements of travellers from VIP and Fast Track Visa and airport pick up to luxurious hotels, resorts, restaurants, transportation, and guiding services associated with famous tourist destinations such as Hanoi, Halong Bay, Sapa, Danang, Hoi An, Nha Trang, Ho Chi Minh…
- Tailored Tours: ViTravel customizes all needs of travelers to fit their budget from 3*-5* services from convenient entry services to other logistic services such as accommodation, transport, entertainment, and relaxation,…
- Adventure and charity tours: With almost 10 years of tailoring inbound and domestic tours in Vietnam, ViTravel is also proud to build and serve many travelers who visit Vietnam and are passionate about exploring remote regions with absolutely amazing nature and ethnics with rich and diverse culture. Vietnam is also an ideal destination for donations in order to help and support vulnerable people and communities to have better lives.
- Multi - Countries Tours: ViTravel understand travellers' difficulties in saving time and money to have a trip to Vietnam and our neighbouring countries, therefore we built many multi countries tours in order to help travellers who wish to visit several nations on one trip. They will have chances to discover the most authentic beauties of Vietnam and our neighbours.
2. Travel Styles
ViTravel customises and designs attractive new tourism products, ensuring the interests of visitors. Towards encouraging foreign ex-pats to travel in Vietnam and welcoming international tourists to come to Vietnam - A Surprising Country.
We build different travel styles such as Classic, Honeymoon, Luxury, MICE, Adventures and Golf,... Orientation of Vietnam tourism to become an ideal future destination.
3. Northern Tours
No.
Tours' name
Duration
Transportation
1
Vietnam's Northern Panoramic Tour
9 days 8 nights
Car
2
Impressive Vietnam
16 days 15 nights
Bus, Cruise, Flight
3
Unforgettable

Vietnam

Sweet Honeymoon
14 days
Bus, Cruise, Flight
4
Hanoi Evening Food Tour On Motorbike
1 day
Motorbike
5
Luxury Cruising in Halong Bay by Paradise Elegance
2 days 1 night
Bus, Cruise
6
Heritage Cruise - A Luxurious Stay in Lan Ha Bay
3 days 2 nights
Bus, Cruise
7
Bai Tu Long Bay on The Emperor Cruise
2 days 1 night
Bus, Cruise
8
Family Reenergized Trip in

Vietnam

11 days10 nights
Bus, Flight, Cruise
9
Fansipan Summit Trek 3 Days - Touching The Roof of Indochina
3 days 2 nights
Bus
10
Unique Exploration Of Magnificent Northern Vietnam Landscape On Bike
8 days 7 nights
Bike
4. Central Tours
No.
Tours' name
Duration
Transportation
1
Central Vietnam Golf Tour
7 days 6 nights
Bus
2
Central Vietnam Adventure
4 days 3 nights
Bus
3
Bach Ma National Park Trekking
2 days 1 night
Bus
4
Hoi An cycling and lanterns

making

half day
1 day
Bike
5
Hue's Allurement
3 days 2 nights
Bus
6
DMZ Tour From Hue City With Lunch
1 day
Bus
7
Hai Van Pass And Son Tra Peninsula By Jeep Tour
1 day
Jeep
8
Phong Nha – Ke Bang National Park & ​​Quang Tri DMZ 17th Parallel
4 days 3 nights
Bus
9
Full Day Diving And Snorkeling In Cham Island
1 day
Boat
10
Hue City Tour And Thanh Toan Bridge Full Day On Bike With Lunch
1 dayBike
Bike
4. Southern Tours
| | | | |
| --- | --- | --- | --- |
| No. | Tours' name | Duration | Transportation |
| 1 | South Vietnam Golf Tour | 8 days 7 nights | Bus |
| 2 | Trekking In Nam Cat Tien National Park | 3 days 2 nights | Bus |
| 3 | Nha Trang & Da Lat Package | 5 days 4 nights | Bus |
| 4 | Mekong Delta In A Glimpse | 3 days 2 nights | Bus |
| 5 | Mekong Delta Exploration On Victoria Cruise | 3 days 2 nights | Bus |
| 6 | Vietnam's Allurement | 11 days 10 nights | Bus |
| 7 | Nha Trang Beach Escape | 4 days 3 nights | Bus |
| 8 | Full Day Trip To Da Lat From Nha Trang | 1 day | Bus |
| 9 | Ho Chi Minh City Highlights & FITO Museum | 3 days 2 nights | Car |
| 10 | Discover Amazing Mekong Delta & River Upstream From HCMC To Phnompenh | 5 days 4 nights | Bus, Cruise |
5. Overland and Muti Countries Tours
No.
Tours' name
Duration
Transportation
1
Grand Vietnam 22 Days
22 days 21 nights
Bus,

Flight

2
Vietnam Cultural Highlights 15 Days
15 days 14 nights
Bus,

Flight

3
Classic Vietnam 14 Days
14 days 13 nights
Bus,

Flight

4
Charming Vietnam 16 Days
16 days 15 nights
Bus,

Flight

5
Indochina Discovery 17 Days
17 days 16 nights
Bus,

Flight

6
Amazing Thailand And Indochina 22 Days
22 days 21 nights
Flight, Bus
7
Best Of Thailand And Vietnam 16 Days
16 days 15 nights
Flight, Bus
8
Southern Vietnam And Northwestern Cambodia 9 Days
9 days 8 nights
Flight, Bus
9
Vietnam And Cambodia World Heritage Tour 17 Days
17 days 16 nights
Flight, Bus
10
Classic Vietnam And Cambodia 14 Days
14 days 13 nights
Flight, Bus
6. Airticket Agency
ViTravel is also a well-known air ticket agency for all domestic and international airlines. Customers can easily search and reserve their tickets on our website: www.vitravel.vn and online booking center: (+84) 24 37 369 369.

7. Transportation
All Types Of Land Transport: Cars, Minivans, Buses, Limousine: DCar, BMW, Mercedes,...Train and Cruises, Flights
8. Services
ViTravel is an investment consulting company Vietnam's leading Visa - Passport service. Fast processing and cost savings for customers:
- Vietnam tourist visa service for foreign travellers
- Business Visa consulting service to start a business in Vietnam for investors
- Work permits and temporary residence cards consulting and providing service in Vietnam
9. Hotel, Resort Booking
- ViTravel is the agent of the episodesunions and associations of hotels and resorts such as Marriott International (JW Marriott), InterContinental Hotels Group (IHG), Hilton Hotels & Resort, Accor Hotels, Best Western International,...
- We cooperate with hotel systems throughout the territory of Vietnam in order to meet the request form of your reservation. Support customers in booking hotels, resorts, and villas, ... consulting suitable accommodations of your trip.
- Simple and Fast Services: Attentive consulting support. Fast and accurate confirmation and Simple, convenient, secure payment.
III: ACHIEVEMENT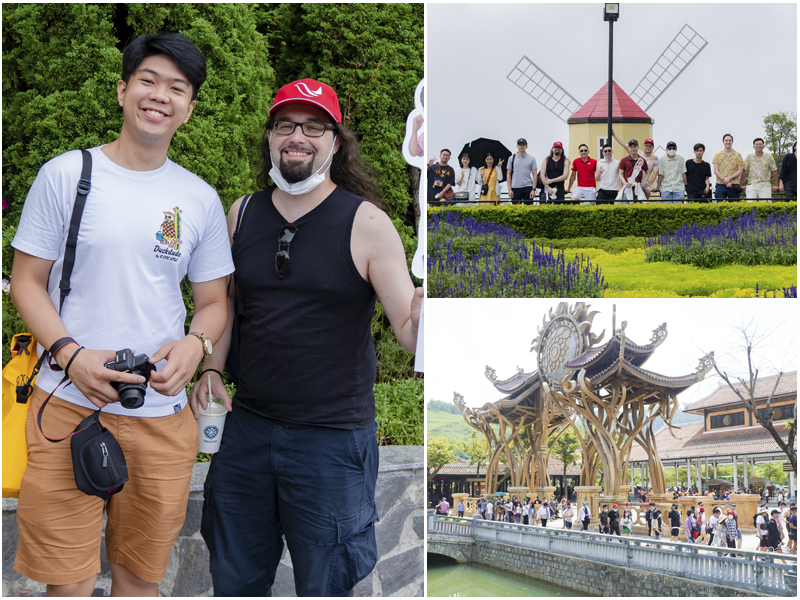 Thank You
Dear customer,
On behalf of the Board of Directors and staff of Viet International Travel and Trade Development Co., Ltd, we would like to thank you for taking the time to pay attention to our Profile. ViTravel always wants to have the opportunity to cooperate and provide the best travel services to our customers. We are always committed to providing you with the best quality travel services at the most reasonable prices to satisfy your travel needs.
ViTravel always wishes to have many cooperation opportunities and expand cooperation with customers and partners in the future. We look forward to receiving your interest and feedback.
We wish you good health and success!